How (un)common? Creative Commons licencing in Horizon 2020 Data Management Plans - Daniel Spichtinger
Abstract
As policies, good practices and mandates on research data management evolve, more emphasis has been put on the licencing of data (often in the context of the reproducibility of research). Licencing information allow potential re-users to quickly identify what they can do with the data in question and is therefore an important component of metadata.
In this paper I analyse the pre-existing collection of 840 Horizon 2020 public data management plans (DMPs) available on the Phaidra repository, to determine which ones mention creative commons licences and among those who do, what licences are being used.
I find that 36% of DMPs mention creative commons and among those a number of different approaches towards licencing (overall policy per project, licencing decisions per dataset, licencing decisions per partner, licensing decision per data format, licensing decision per perceived stakeholder interest) exist, often clad in rather vague language with CC licences being "recommended" or "suggested". Some DMPs also "kick the can further down the road" by mentioning that "a" CC licence will be used, but not which one. However, among those DMPs that do mention specific CC licences, a clear favourite emerges: the CC-BY licence, which accounts for half of the total mentioning of a specific licence.
The fact that 64% of DMPs did not mention creative commons at all is an indication for the need for further training and awareness raising on data management in general and licencing in particular in Horizon Europe. For those DMPs that do mention specific licences, 60% would be compliant with Horizon Europe requirements (CC-BY or CC0). However, it should be carefully monitored whether the other 40% of content that is currently licenced with non- Horizon Europe compliant licences will in the future move to CC-BY or CC0 or whether such content will in the future simply be kept fully closed by projects through invoking the "as open as possible, as close as necessary" principle.
About Daniel Spichtinger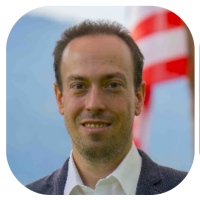 About Daniel Spichtinger
Daniel Spichtinger is an independent consultant working on open science, including open access and data management policies.
From 2012-2018 he was a member of the unit dealing with open science in the European Commission's Directorate-General for Research and Innovation.
In this capacity he contributed to the development of EU open access policies (for scientific publications) and open/FAIR research data policies, including the design and implementation of the Open Access to Research Data Pilot in Horizon 2020.
As part of his job, he also developed relations and facilitated inter-institutional and policy dialogue with external stakeholders and other EU institutions. This also involved information and awareness raising on open access, e.g. through public presentations and trainings. He was also responsible for managing several EU funded projects in this area, e.g. RECODE. He is familiar with European level legislation on the subject including the Horizon 2020 regulation, the Recommendation on Access to and Preservation of Scientific Information and the proposed provisions for open access in Horizon Europe.
After finishing his 6 year contract with the Commission, Daniel returned to Vienna and registered as a self-employed expert for Open Science and EU Research Policy in 2018. In this capacity, he has been involved in a number of projects such as
An Assessment of EOSC readiness in three European countries (for RFII)
An analysis of Horizon 2020 Data Management Plans (for OpenAIRE/the University of Vienna)
A study of Open Access and Open Data in Azerbaijan (for IDI/EuropeAID)
Recommendations for an Open Access and Research Data Policy in Malta (for EC Policy Support Facility)
He has also provided a number of trainings and publications (see next page) on open access and FAIR data in the context of open science. He is also employed part time at the Ludwig Boltzmann Gesellschaft (LBG) where he advises the LBG on third party funding.
Daniel initially obtained a joint "Magister" (Mag.phil) degree from the University of Vienna (Austria) in English, Communication Science and History (2000), writing his thesis about the global spread of English. He also obtained a Master of Arts in Contemporary European Studies from the University of Bath (UK, 2002), where he first encountered European research policy and tackled the issue of involving civil society in the EU's Sixth Framework Programme for Research.